To be considered as a ski resort, there needs to be at least one lift and it needs to be spinning at least once a year. Here, the top 5 is made up of "unknown" ski resorts where you will probably not spend your next family snow holidays. Indeed, with extremely high altitudes and unusual locations, these destinations are more anecdotal than real ski resorts where you can carve perfectly groomed runs to your ski-in/ski-out accommodations.
Nonetheless, these are the world's highest ski resorts: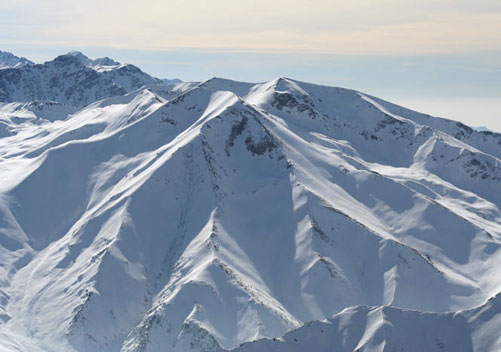 #5 Gulmarg, India 3,980 m / 13,054 ft
Mountains: Himalayas
Ski Lifts: 3
Gulmarg is the first non conventional ski resort of this list. Located in India, this ski resorts is actually growing fast and is opening more terrain to become Asia first ski resort. It is also known for being one of the snowiest ski resorts on earth.
#4 Jade Dragon Snow Mountain, China 4,700 m / 15,420 ft
Ski Lifts: 2
The Jade Dragon boasts the highest lift in Asia as well as the highest gondola lift in the world – although there is no ski area here.
#3 Mérida, Venezuela  4,767 m / 15,639 ft
Mountains: Andes
Ski Lifts: 4
This resort has 4 ski lifts with only 2km of skiable terrain due to the dangerous surroundings. It does however boast the longest cable car distance in the world.
#2 Maoke Mountains/Jaia 4,800 m / 15,748 ft
Mountains: Maoke
Ski Lifts: 3
First opened in 1979 with a rope tow and ski lodge, the ski resort was completed in 1982. It is unknown if this ski resort is still in operation as access is extremely restricted with permits necessary.
#1 Dagu Glacier, China 4,843 m / 15,890 ft
Mountains: Himalayas
Ski Lifts: 1
Dagu Glacier is a geological & ecological tourism region. At present, there are 13 modern alpine glaciers in the some 200 sq km zone. From the valley station, which is situated at a height of 3,617 meters above sea level, to the Dagu Glacier at 4,843 meters above sea level, it now claims the highest cableway in the world.
Read more lists:
10 Largest Vertical Drops in USA
Top 5 Resorts in NZ
Where to ski 365 days a year